Next Mission: Stylish Ski Gear. WWRD?
So if you saw my last favorites video, then you know I completed my mission to find the perfect camera bag ("perfect," as in functionable and something so beautiful that I'd want it even if it weren't a camera bag). It wasn't easy … camera bags are one of those things 99% of people/companies have failed to make fashionable.
Well I might go skiing when I visit home for the holidays, and I'm on a new seemingly impossible quest to find cute snow sport clothes, specifically ski clothes. I ski and snowboard, but this time it will most likely be skiing and anyway, snowboarding gear is already pretty awesome looking. I think it's because snowboarders like to wear colorful, loose-fitting clothes for movement and their boots are 1,000 times more comfortable and attractive.
Let me clarify here–I don't want something that's "cute for ski clothes." I want something that's just cute, period, and obviously waterproof and warm and all kinds of functional. If you don't believe me that ski clothes are just plain ugly, look at this collection of photos of celebrities in ski gear. These are women who make you want to buy and wear basically anything that they put on, women who make you wonder if you can pull off pajamas and slippers in public because they look so damned cute when they do it … and yet they all look, at BEST, boring!
Just read the captions and look at how OK Magazine struggles so hard just to make it sound like these ugly, shapeless black, grey and red ski jackets and pants, plain old beanies and chunky fleece layers are actually flattering and attractive. I don't blame them, there really is not a lot to work with here.
The only celebrity who's managed to make skiing look fashionable has been Rihanna, as far as I can tell–and guys, if you didn't worship her before, look at these photos and consider how she has pulled off what NO ONE ELSE ON THE PLANET has been able to pull off, which is make ugly-ass ski outfits look sexy! When you look this good, will anyone else on the slopes really judge you if you're wearing bright lipstick and smokey eyes to go skiing? Probably not.
Too bad she's basically decked out in Moncler from head to foot so each of these outfits would probably cost several months' salary for me.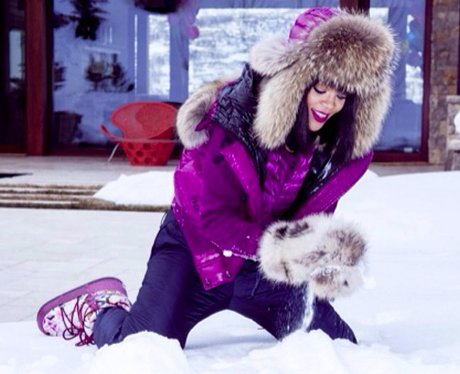 And here I thought two WWRD (What Would Rihanna Do?) blog posts were already maxing out the limit of my Riri fandom. Nope. (more photos here)
So here are some thoughts on these outfits:
1. She goes for COLOR. Conventional wisdom would have you believe that ski clothes = bulky and therefore black is the way to go, because it's slimming right? Well black is what made Kim Kardashian, above (another one of my favorite celebrities with style), look drab and frumpy. And if she can't pull it off, I probably can't, either.
2. Note, also, that it's not just that Rihanna uses color, but she goes for rich, luxurious looking jewel tone colors, not the bright primary colors that are most common on the slopes. I've been to a lot of ski shops in my life, and truth be told, this is not easy to find, especially if you're on a regular person budget. But it is definitely something to strive for.
3. She makes it look even MORE lux by wearing the colors in contrasting textures–One of the Moncler pieces she's wearing in the top, though you can't tell, is a puffer with knit sleeves and pocket detailing. The darker-colored lining is also a nice touch, plus that beautiful fur bomber hat bring the whole outfit to life. She looks so fabulous that this is probably one of my favorite outfits I've ever seen her in, period–and that's saying a lot. The second furry outfit is also BEAUTIFUL but completely impractical … I think it's safe to say she didn't get much actual skiing done.
4. She didn't fight the bulk. If you notice in the OK Mag slideshow, a lot of the world's most beautiful women seem to try their best to get the slimmest possible ski gear, probably because they have bodies they work hard to maintain and normally like to flaunt. But let's face it — you can't exactly go skiing in skin tight clothing. So what they end up with is yawn worthy body-hugging padding. Rihanna was basically like PHUQ it, and just layered it all on all over, EXCEPT in the waist area. The result is a sexy–albeit bulkier than usual–snow-friendly hourglass silhouette. and she doesn't seem to have had to sacrifice any warmth at all. Well played.
5. I know I made fun of her makeup, but it is as much a part of the outfits as the gear. I don't care what anyone says, the next time I take to the slopes I'm gonna do it, too.
So with these observations in mind, I am now on the hunt for hot ski gear (that will not cost me thousands of dollars). I will document my findings, of course, or if you guys have any suggestions please do send them my way. There's still a few months to go and most of the latest lines are not yet out, so there's plenty of time. 🙂
---